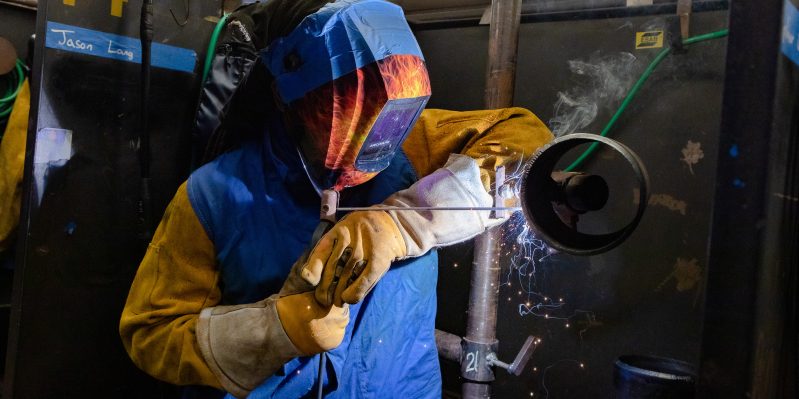 Today, more than ever, local industries want to hire entry-level employees who can hit the ground running. This is where career and technical education (CTE) comes in. CTE is a broad term for education that combines academic and technical skills with the knowledge and training needed to succeed in today's workforce. CTE prepares students for the world of work by introducing them to workplace competencies in a real-world, applied context.
Building Pathways to Both College and Career
CTE doesn't replace academic learning; it complements traditional education by helping students develop practical skills. Students who enrolled in CTE in high school were likely to enroll in college. In addition, many high school CTE programs offer dual credit, helping students get a head start on higher education by simultaneously earning high school and college credit.
Take a look at the different CTE pathways that CCTC has to offer:
Basic Machining and CNC Certificate
The Basic Machining and CNC Fundamentals Certificate develops skills in basic machining and computer numerical control (CNC) operations. Because of the fast-growing nature of industrial technology, those who have developed skills in CNC operations are always in demand. CNC machinists usually enjoy job security as well as good wages. This program teaches the student to take metal and cut, drill and shape it into useful components.
Criminal Justice
The Criminal Justice Technology Associate Degree in Applied Science program seeks to develop an understanding of the causes and the prevention of crime, impacts of human behavior, the legal system and the organization and conduct of the criminal justice functions. The curriculum provides essential knowledge of the functions and prevalent problems of criminal justice agencies and the organizational, legal and social context within which they operate. The program meets the needs of in-service students who seek to improve their professional qualifications and of those students who are preparing for employment with criminal justice agencies.
Engineering Design Technology
The Engineering Design Technology program is designed to give students the skills essential for success in the rapidly changing field of engineering design technology. Hands-on experience familiarizes students with computer-aided design (CAD) technology. Students learn to develop technical drawings with an emphasis on working drawings and three-dimensional solid modeling as they are applied in industrial, manufacturing, engineering and architectural environments.
 

Entrepreneurship/Small Business Management Certificate
The Entrepreneurship/Small Business Management Certificate program is designed to provide a foundation for those seeking to start, build or manage their own business. The program introduces students to a variety of topics such as assessing organizational strategies and practices, developing a business idea and plan, applying sound management principles to real-life business situations and understanding key functions such as business law, customer service, e-commerce, small business operations and quality. Students will work on their own business plan and will be connected with coaches who can help with individual problems and next steps in their business development process.
Mechatronics Fundamentals Certificate
The Mechatronics Fundamentals Certificate program is designed to provide graduates with the necessary skills and knowledge to perform basic maintenance and repair of industrial equipment with both mechanical and electrical components. Successful students can progress to the Basic Mechatronics Technology Certificate. Students can also enroll in the General Technology Associate Degree program.
Environmental Engineering Technology
Students in the Environmental Engineering Technology Associate Degree in Applied Science program examine the effects of pollution using applied math and science skills. Students also determine strategies to minimize or prevent waste in order to reduce the impact on the environment. They discuss innovative solutions to environmental issues and determine ways to improve processes and protect people from hazardous and toxic chemicals. Most importantly, students acquire skills and knowledge they can adapt to a variety of environmental, health and safety career opportunities.
Natural Resources Management
The Natural Resources Management Associate Degree in Applied Science program is designed to prepare students for a career in the management and protection of natural resources. Success in this field requires the technician to have a broad background in the biological and agricultural sciences. Students can take the entire program online, but those looking for hands-on experiential learning can take technical skills courses. The student should discuss these options with their advisor at the beginning of their program of study. Students in this program have flexible education options for transferring to four-year degree programs or entering directly into the field as technicians.
Pharmacy Technician
The Pharmacy Technician Certificate Curriculum is a formal academic training program that prepares individuals to become pharmacy technicians. These allied health professionals assist and support licensed pharmacists in preparing and dispensing medications and other health care products to patients. Under the direction of a pharmacist, the pharmacy technician performs pharmacy-related functions in compliance with specific policies and procedures that provide optimal pharmaceutical care for their patients.
Accounting Specialist 
The Accounting Specialist Certificate program provides students with a working knowledge of accounts receivable, accounts payable and general accounting activities. Students may apply the courses taken in the Accounting Specialist Certificate to the Associate Degree in Applied Science with a Major in Accounting. The Accounting Specialist Certificate can be obtained completely ONLINE through the selection of appropriate classes or through selected face-to-face classes available during the day or evening.
Pre-Nursing Preparatory
The Pre-Nursing Preparatory Certificate program provides a structured curriculum for students wishing to apply for admission to the Associate Degree in Applied Science Nursing program. Completion of the certificate prepares the student for application but does not guarantee acceptance into the nursing program.
Welding
The Welding Certificate program is designed to provide knowledge and skills in the techniques of inert gas, oxyacetylene, electric arc welding and plasma cutting. This program is 36 semester hours and additional courses will be required after high school to complete the certificate.
Marketing and Sales for Small Business
The Marketing and Sales for Small Business Certificate program is designed to provide fundamental knowledge of a wide variety of sales and marketing techniques for small businesses, start-ups, retail sales and non-profit organizations that lack a centralized marketing strategy. The certificate focuses on online marketing, promotional strategies and web design as well as face-to-face and customer techniques.
Office Management
The Office Management Certificate is designed to provide fundamental knowledge and skills in a wide variety of office management and administration applications to run a one-person or small office or department. The certificate offers a broad foundation of knowledge about organizations and how they operate and includes technical skills in accounting, payroll, supervision, human resources, computer technology and professional communications.