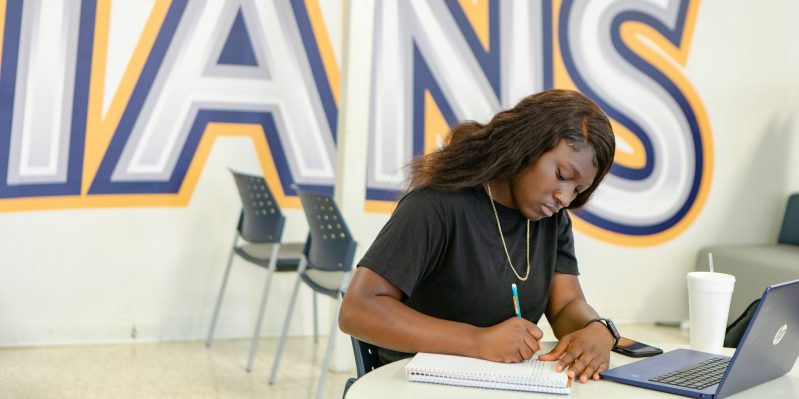 What is the significance of Career and Technical Education (CTE) Dual Enrollment for high school students?
Career and Technical Education programs for Dual Enrollment students offers so many benefits. Dual Enrollment, regardless of program, offers students a HUGE savings in higher education cost. Dual Enrollment students have the benefit of Lottery Tuition Assistance, this means that students do not have to use student loans or federal grant money (such as the Pell Grant), allowing them to save that for future use if they choose to pursue college coursework after graduation.
CTE Dual Enrollment students, however, have an even bigger benefit. Because most CTE students are earning a certificate that they can use directly after high school graduation for employment in high-demand jobs, they often achieve a college-level education in a technical area and can potentially enter the workforce with zero financial obligation to their education.
Additionally, most people put off career and technical training until after high school graduation – CTE Dual Enrollment at CCTC offers students a way to earn certification in a high paying employment field while they are in high school, often giving them a jump-start on their future and putting them ahead of their peers. CTE Dual Enrollment students have either gained a large portion of a certificate or degree while in high school, saving them money; or they are career-ready at graduation. It's a great opportunity, especially in a workforce that is competitive.
How does CTE Dual Enrollment education impact the transition from high school to college to career?
In the long run it offers lower costs for CTE degrees, such as an Associate of Applied Science degree in Engineering Design Technology, Criminal Justice, Natural Resources Management, or Environmental Engineering Technology make it an extremely valuable experience. For those CTE Dual Enrollment students seeking a CTE Certificate, they have the opportunity to achieve training and education in a high-demand employment field such as Welding, Mechatronics, Machining and CNC Operations, Accounting and many other areas!
Students also benefit from an early start. Every graduating class will hit the ground running and this means that the workforce is flooded with new potential employees – why not make yourself stand out? Students who have completed a CTE Certificate program with CCTC will stand out to employers and be able to showcase their talents, education, training and experience. 
Also, for those students who choose to pursue a degree in a CTE field, they have a head start toward their goals. While their peers are just beginning their collegiate experience, CTE Dual Enrollment students will have potentially finished a large portion of a degree; and, should they continue with CCTC, they will save a ton of money with lowered-cost tuition compared to larger universities.
Why should high school students choose CTE at CCTC?
There are so many reasons to choose CTE at CCTC! Central Carolina offers a large variety of programs. Whether a student is looking to begin a career in manufacturing and engineering, business, computer science, natural resources management, criminal justice, etc. They can find education and training here at Central Carolina. Aside from the financial and head-start benefits, we have programs designed with dual enrollment students in mind.
Because the high school student is dually enrolled in a college program, they receive all the benefits that our more traditional students enjoy because they truly are a college student – tutoring and writing help, career services, disability accommodations, access to the CCTC library and computer labs, user support services and much more!
Also, as a member of the Titan family, CTE Dual Enrollment students become part of a large group of people who work hard to make sure they succeed. Students become part of a team that is dedicated to their accomplishments and the realization of their goals. As an alumna of CCTC, I can attest to the dedication of college faculty and staff to student success. Wonderful people pushed me to achieve the educational goals I created for myself and they did so with expertise, kindness and sincerity. It is the reason that I came back to CCTC for employment. I was inspired to inspire! CTE Dual Enrollment students who choose CCTC will be met with the same level of guidance, knowledge and sincerity that I experienced which will enrich their college experience even more.
How can students meet eligibility for CTE Dual Enrollment?
As the CTE Dual Enrollment Coordinator, I work with students and guidance counselors to get students enrolled and make sure they are successful. A new CTE Dual Enrollment student will be either a rising junior or a rising senior. We also have several ways in which a student can meet academic eligibility. To place into the college, students can be admitted through high school transcript, testing scores such as the PSAT, SAT, pre-ACT, ACT or they can take CCTC's Accuplacer exam. To place by transcript, students will need to have completed at least three English credits in high school. However, because some CTE programs have slightly different criteria for admission into the programs that may not be as rigorous, I work with students on an individual basis to evaluate each person's record. I would encourage every rising high school junior or senior to apply and then come have a conversation with me!
What are all of the current technical pathways that students can explore through CTE Dual Enrollment?
We have so many options for students; however, program availability is specific to county as we work in partnership with School District Career Centers. Students should get in touch with CCTC's CTE Dual Enrollment Coordinator to see what is available to the student in their county. For more information, contact Morgan Stiles at [email protected] or (803) 778-6667. Below is a complete list of what CCTC has to offer.
ADVANCED MANUFACTURING
Degree: General Technology, Engineering Design Technology
Certificate: Automotive Technology, Automotive Diagnostic Technology, Basic Air Conditioning and Heating, Basic Machining and CNC, Mechatronics Fundamentals, Welding
BUSINESS
Degree: Accounting, Management
Certificate: Accounting Specialist, Entrepreneurship/Small Business Management, Office Management, Supervision and Leadership Foundations
EARLY CARE & EDUCATION
Degree: Early Care and Education
Certificate: Child Care Assistant, Early Childhood Development
CRIMINAL JUSTICE & PARALEGAL 
Degree: Criminal Justice Technology
Certificate: Police Pre-Academy Training
ENVIRONMENTAL & NATURAL RESOURCES 
Degree: Environmental Engineering Technology, Natural Resources Management
Certificate: Wastewater Operator, Water Operator
COMPUTER SCIENCE 
Degree: Computer Technology
Certificate: Microsoft Office Applications Specialist, Computer Specialist, Cybersecurity
Who can students contact for more information?
They can contact me! My name is Morgan Stiles and I am the CTE Dual Enrollment & Youth Apprenticeship Coordinator. The phone number is (803) 778-7829 or they can reach out via email at [email protected].