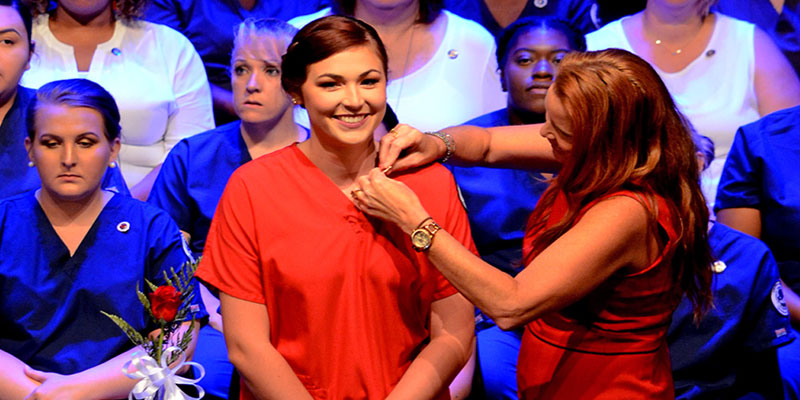 What made you decide on surgical technology for a career?
I chose surgical technology because it was different. I never heard about the career and when I researched what it was about I knew that it was for me. The rush of being in the operating room and being a surgeon's right hand was something I knew was for me.
What do you like most about the program?

 
The thing I enjoyed most while being in the program was learning about all the specialties. I could never quite understand exactly how the body works and how the surgeons were about to fix it. Being able to be a part of that in surgery was so interesting.
What did you find difficult and how did you overcome it?

 
The thing I found difficult was being able to learn a surgeon's wants and needs in the OR. They all have their special ways of how they want the surgery to go. It was difficult as a student and also as a new surgical tech to be able to grasp each surgeon's techniques. When I started working in the field, I carried around a notebook and I made notes so I could go home and study that surgeon so next time I was working with them I would be able to have everything they needed to perform the surgery.
Describe your job: Before graduating, I wanted to be a private tech for one surgeon. When I graduated I went into the main OR doing all specialties which was probably the best thing to do. I got to learn so many different techniques and to be able to create my own. I am now a private tech for an ophthalmologist working in surgery once a week and in his office 4 days a week. I am working alongside him with every patient making sure the documentation is correct and he has everything he needs for when the patient returns. On surgery days I go with him and have the OR set up for him for every case. I make sure he is handed the correct instrumentation and also make sure the sterile field stays sterile during the entire procedure.
What advice would you give anyone considering a career in surgical technology?

 
The advice I would give those who are interested in surgical technology is to take notes. Not only in class, but in the field as well. This is an amazing line of work and you get to work with some amazing surgeons. You become a family in the OR and always your number one job is to keep the patient safe. I am so grateful to be a part of the surgical technology family.