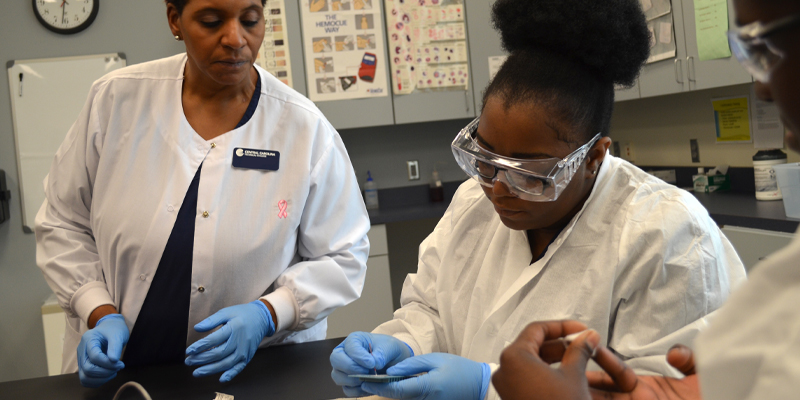 Are you interested in a career in healthcare? Realize your full potential working in a medical office. With the number of healthcare procedures increasing as the population ages, there is a very high demand for skilled specialists in medical assisting and medical coding. More and more, the unique skills of medical office professionals are an important contribution to the delivery of quality care. The Bureau of Labor Statistics projects that, over the next 20 to 30 years, these careers will remain in high demand.
So, what's the scoop?
Basically, the healthcare office environment is divided into two distinct areas:
"Front office" personnel work with patient records, insurance medical coding and billing, computerized accounting, patient databases, transcription of dictated notes, among other activities.
"Back office" personnel are the clinical care providers including physicians, physician's assistants and advanced nursing personnel.  Clinical care providers are assisted primarily with medical assistants and a variety of other support personnel.
Medical assisting is a versatile, in-demand healthcare career where you interact with patients and positively affect the lives of other people. Medical assisting can be a stepping-stone to many other healthcare professions.
Medical coders and billers are investigators, hunting down patients' diagnoses, the reasons why the patient required care, as well as identifying the specific procedures, services and treatments provided. Medical billing and coding technology are evolving at such a rapid rate, these professionals require excellent training.
Central Carolina offers an array of programs to prepare you for a medical office career," says Dr. Vicki Martin, dean of the college of nursing and health sciences. "The demand for trained medical office support is growing. These jobs usually offer regular hours-something that is rare in the healthcare field," says Martin.
What does a medical assistant do?
The main role of a medical assistant is to keep the medical office running smoothly by performing delegated clinical and administrative tasks. The specific duties vary depending on the location and the size of office. Some administrative duties may include handling correspondence, greeting patients and filling out their medical records, as well as scheduling appointments and completing referrals to other providers. Clinical duties can include preparing an examination room with the proper supplies, taking a patient's medical history, checking vital signs (blood pressure, temperature, height and weight) and other medical tasks such as drawing blood, administering injections and processing select laboratory tests.
Skills, learning and employment opportunities:
Most employers are interested in seeing medical assistant training on your résumé, and strong organizational skills are needed. CCTC's Medical Assistant program prepares you to take a national certification examination at the program's completion. While certification is not required for medical assistants, it will boost your chances for employment if you are formally prepared.  In CCTC's program, topics you will study include: anatomy and physiology; electronic medical record keeping; medical terminology; medical office administrative and management skills. You will also learn about medical office laboratory techniques, diagnostic procedures, pathophysiology and pharmacology.
With appropriate training, there is greater opportunity in finding employment in a physician's office or hospital, clinical laboratories, nursing homes and in the offices of other health practitioners such as chiropractors and podiatrists. In larger offices, there may be opportunities for advancement into administrative management positions as well.
The medical assisting career is projected to grow 19 percent (must faster than average) in the Bureau of Labor Statistic's Job Outlook 2019-2029. The earning potential of a medical assistant can range from $23,350 to $41,430 per year for full-time employment in South Carolina.
What does a medical record coder do?
Procedurally, the primary role of a medical record coder is medical record management with an emphasis on procedural and diagnostic coding for reimbursement of professional services provided in all types of healthcare facilities. Medical record coders ensure accurate documentation of a patient's care.  This is a critical responsibility in healthcare as a patient's medical history is important for consistent ongoing healthcare.
Skills, learning and employment opportunities:
Medical record coders must be detail oriented, have the ability to work well with numbers, and be comfortable working with computers and various types of medical coding and billing software programs. Although much of the job entails administrative tasks such as reviewing and interpreting medical documentation, as well as processing and submitting medical claims, some interpersonal skills are also necessary. Medical record coders may be required to obtain additional information from a physician or other medical provider or may need to contact insurance companies regarding questions about claims.
CCTC's Medical Record Coding Certificate program will help you learn about all aspects of medical records and its importance within any healthcare system. Correct interpretation of a physician's notes is critical to the on-going process of caring for each patient in addition to ensuring proper reimbursement for services. Therefore, beyond administrative training, learning will include knowledge in the subjects of anatomy, medical terminology and human physiology.
From an employment perspective, medical record coding positions are needed in every hospital, medical clinic, physician's office, nursing home, and home care agency. Health insurance companies, workers' compensation organizations, personal injury law offices, and fraud investigative agencies also hire trained medical coders, either on a contract basis or as a full-time staff member. In hospitals and large agencies where more than one person is required for medical coding, there may be potential for advancement into supervisory or management positions.
Central Carolina also offers an Inpatient Medical Coding Certificate completely ONLINE. This program is designed to be taken after the successful completion of the Medical Record Coding Certificate or previous employment as a medical coder.  Inpatient Medical Coding prepares health information professionals by focusing on procedural and diagnostic coding for reimbursement of professional services performed in inpatient facility settings.
The medical record coding career is projected to grow 8 percent (much faster than average) in the Bureau of Labor Statistic's Job Outlook 2019-2029. The earning potential of a medical record coder can range from $26,360 to $63,020 per year for full-time employment in South Carolina. 
  Contact Admissions for more information at 803.778.6605 or [email protected]
 Choosing a Program: Some Things to Consider
There are many healthcare diploma and degree programs out there. Unfortunately, they are not all created equal. Choosing a program can be very confusing. Here are some things to consider:
Are they accredited?
CCTC is accredited by the Southern Association of Colleges and Schools Commission on Colleges and our graduates with a national certification and a diploma/degree have the best chances of employment, typically at a higher entry-level salary. CCTC's Medical Assisting Diploma students who complete the program are eligible to take the national CMA(AAMA)-Certified Medical Assistant-American Association of Medical Assistants certification examination.  CCTC's Medical Record Coding graduates are eligible to sit for the Certified Professional Coder (CPC) and the Certified Inpatient Coder (CIC) national certifications.
Are the credits transferable?
Many students graduate from a program, only to find that when they want to continue their education, their credits won't transfer. This causes frustration for those who have paid thousands for these non-transferable credits. At Central Carolina, the general coursework you complete in the Medical Assisting and Medical Record Coding programs is transferable, and even some of the career-related courses may transfer as well, depending on the receiving college and program of study.