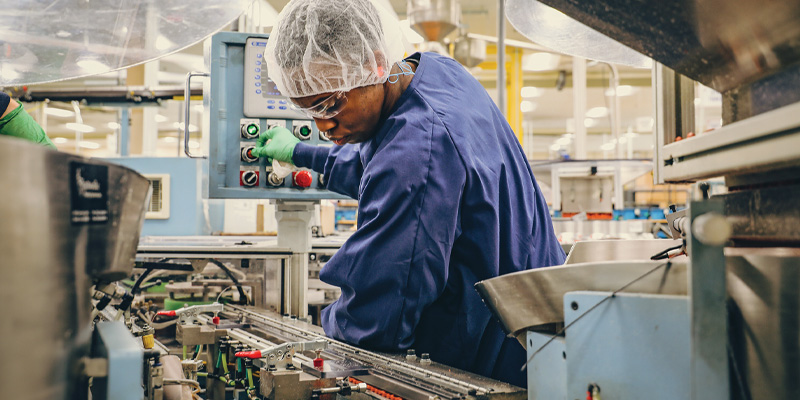 You may have heard that manufacturing jobs are a thing of the past. While it's true that old-fashioned assembly line jobs are dwindling, a new kind of manufacturing job is starved for skilled workers.
Today, more than 60 percent of manufacturing employees have at least some college education, according to a U.S Department of Commerce report. At the same time, according to the Bureau of Labor Statistics, the U.S. has 12.75 million manufacturing jobs which employs 8.5 percent of the workforce. These jobs pay 12 percent more than all others.
As a result, jobs such as skilled machinists, equipment operators, welders and technicians are vital, and entry-level jobs in advanced manufacturing can often be difficult to fill.
With automation driving modern manufacturing, the need remains for workers who can program, manage and repair devices. Employers need trained workers to fill vacancies and CCTC works with companies in the Midlands to provide them with the high quality, skilled employees they need.  Businesses such as BD and Continental frequently hire CCTC graduates.
Technicians
With the Basic Machining and CNC Fundamentals certificate and the Advanced CNC Programming certificate at CCTC, students learn the skills needed to prepare for a career as a machining technician. The program teaches students the theory and safe use of hand tools, power machinery, computerized equipment and sophisticated precision inspection instruments. The basic or the advanced certificate programs can be completed in one year, including the summer semester, and many students are offered employment from a regional manufacturer before graduation.
Trades
Others jobs in demand, such as welders, require skilled workers who can perform intricate, custom work. Welders typically earn a certificate to acquire the skills they need. Welders must learn a range of techniques for welding a variety of metals.  Students in the Welding program at CCTC learn how to set up, program, operate and troubleshoot automated equipment related to the welding industry. The basic certificate and advanced certificate in pipe welding can each be completed in one year, including the summer semester.
Another career opportunity gaining traction in our service area is mechatronics. In one year, students can receive a Mechatronics Fundamentals Certificate and can qualify for entry-level jobs in the mechatronics fields of electricity, mechanical power, hydraulics, pneumatics, and hand and power tool applications. Students can take additional  courses and receive a Basic or Advanced Mechatronics Technology certificate and further increase their employability within the field. Potential careers in this field include maintenance technician, maintenance mechanic and electrical technicians.  With a 10 percent growth in jobs by 2028, the average salary of an electrical technician is $62,180.
Youth Apprenticeship
Central Carolina offers a youth apprenticeship program that gives high school juniors and seniors the opportunity to apply class instruction in an actual workplace setting by working for an employer in a position directly related to their program of study. The program helps develop the employment skills needed to succeed in the workplace, such as interpersonal skills and teamwork, problem solving through identifying problems and implementing practical solutions, and effective communication to exchange ideas and information with others. With nine approved youth apprenticeship programs at CCTC, opportunities abound for students to receive on-the-job experience prior to entering their career.
Career Outlook in CCTC area
Welder $21.53 hourly, $44,770 annually
Projected growth (2019-2029) 3%
Machinist $19.38 hourly, $40,320 annually
Projected growth (2019-2029) 3%
HVAC Technician $22.63 hourly, $47,080 annually
Projected growth (2019-2029) 4%
Engineering Design Technology $29.32 hourly, $60,980 annually
Projected growth (2019-2029) 3%
All wages are the median for 2021. All data from Bureau of Labor Statistics, South Carolina.
HVAC Program
Central Carolina's Air Conditioning, Heating and Refrigeration (HVAC) Technology program will give students the skills needed to work with residential and light commercial systems, as well as assist in the start up, preventive maintenance, service, repair and installation of residential and light commercial systems.
The certificate program is offered during the day and night at the Main Campus and can be completed in three semesters. The advanced certificate is an additional three semesters.  The HVAC Technology program continually produces individuals who are job ready upon completion.  Many HVAC students are offered technician jobs prior to completing the program so that once they graduate, they immediately begin working in the field.
Engineering Design Technology
Do you have a creative spirit and passion for technology? These are perfect elements for a bright future with Central's Engineering Design Technology program. Students who enjoy problem solving and design will learn to master the latest CAD software with help from industry experts in just two years.  Using 2-D and 3-D modeling, students take conceptual architecture, engineering and mechanics, and make them reality. The CAD program is offered at the Advanced Manufacturing Technology Training Center in Sumter and can be completed as an associate degree.